GWEF Covid-19 patch
Hello GWEF Members,
Due to the fact that in 2020 the GWEF member clubs were not able to welcome you to one of the international treffens, GWEF decided to create a patch that you can buy to show you endured this crazy time together with all other GWEF members. This patch will be available for € 3.00 and can be ordered by contacting you Interrep. At the end of the year all orders will be counted and the patches will be made.
Here is an example of what it will look like:


GWEF
---
GWEF STA Stamp card 2020 will be reused in 2021
Hello GoldWing drivers of Europe,
The GWEF STA Stamp card of 2020 will be used in 2021 for the STA stamps.
This means that you should not throw it away, but hold on to it for next year.
Also it is agreed that for those who are attending the Bulgarian Treffen in September 2020, the card will NOT be stamped, as it is impossible to receive 4 stamps this year.
This is more cost-effective than reprint the cards next year.
Stay safe and enjoy the ride,
The GWEF Committee
---
GWEF Competition most beautiful bike 2020
Hi,
The GWEF board has decided to organize a competition for the most beautiful Goldwing of 2020. This for the categories 1000, 1100, 1200, 1500 and previous and new model of the 1800. There will also be a category for Three wheel GoldWings, all types and engine sizes together.
The winner of each category will then be allowed to participate in 4 international treffens for free in 2021.
Participants must submit 4 photos of their Wing (4 sides) to their interrep before 01-12-2020. Only pictures without people will be accepted. Preferable with the license plate made unreadable (blur in the picture, put a paper over it or a towel).
Please note that this competition is only for Wingers who are members of a GWEF Club!
GWEF Secretary,
Devey Edwin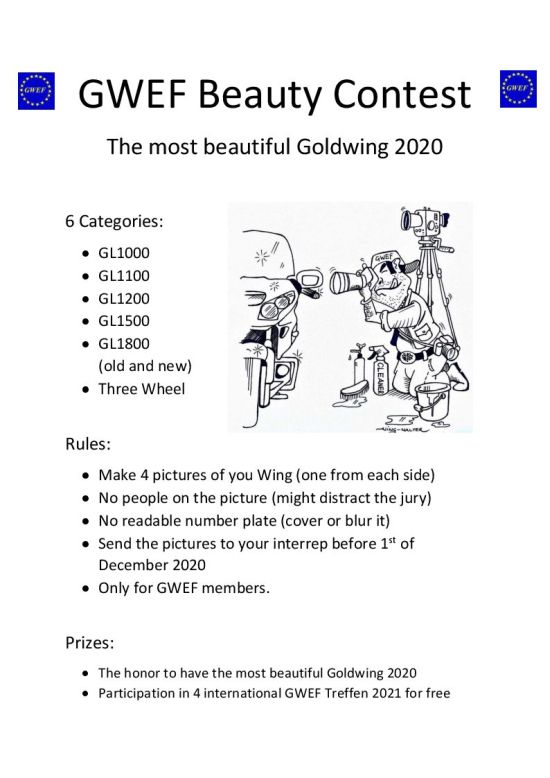 ---
IMPORTANT MESSAGE!
Dear Members of GWEF,
Cancelling a GWEF recognized meeting is a national matter. Never the less, the GWEF officers decided not to promote the travel and gathering of 26 nations during the Covid pandemic.
The GWEF Officers
---
GWEF Treffen 2020
| | | | | | | |
| --- | --- | --- | --- | --- | --- | --- |
| | Date | Country | Location | I | R | D |
| | 06.05-10.05.20 | Germany | ** CANCELLED ! ! ** | - | - | - |
| | 14.05-17.05.20 | Belgium | ** CANCELLED ! ! ** | - | - | - |
| | 21.05-24.05.20 | France | ** CANCELLED ! ! ** | - | - | - |
| | 28.05-01.06.20 | Holland | ** CANCELLED ! ! ** | - | - | - |
| | 05.06-07.06.20 | Portugal | ** CANCELLED ! ! ** | - | - | - |
| | 11.06-14.06.20 | Spain | ** CANCELLED ! ! ** | - | - | - |
| | 18.06-21.06.20 | Slovenia | ** CANCELLED ! ! ** | - | - | - |
| | 25.06-28.06.20 | Austria | ** CANCELLED ! ! ** | - | - | - |
| | 02.07-05.07.20 | Italy | ** CANCELLED ! ! ** | - | - | - |
| | 09.07-12.07.20 | Poland | ** CANCELLED ! ! ** | - | - | - |
| | 16.07-19.07.20 | Belarus | ** CANCELLED ! ! ** | - | - | - |
| | 23.07-26.07.20 | Denmark | ** CANCELLED ! ! ** | - | - | - |
| | 30.07-02.08.20 | Finland | ** CANCELLED ! ! ** | - | - | - |
| | 06.08-09.08.20 | Norway | ** CANCELLED ! ! ** | - | - | - |
| | 13.08-16.08.20 | Sweden | ** CANCELLED ! ! ** | - | - | - |
| | 20.08-23.08.20 | Ireland | ** CANCELLED ! ! ** | - | - | - |
| | 27.08-31.08.20 | Great Britain | ** CANCELLED ! ! ** | - | - | - |
| | 02.09-06.09.20 | Ukraine | ** CANCELLED ! ! ** | - | - | - |
| | 09.09-13.09.20 | Bulgaria | Hotel Seahorse, camp. South, Lozenets | | | |
| | 16.09-20.09.20 | Turkey | ** CANCELLED ! ! ** | - | - | - |
---
GWEF Treffen 2021
| | | | | | | |
| --- | --- | --- | --- | --- | --- | --- |
| | Date | Country | Location | I | R | D |
| | 29.04-02.05.21 | Belgium | t.b.a. | - | - | |
| | 13.05-16.05.21 | France | Bourges | - | - | |
| | 20.05-24.05.21 | Holland | t.b.a. | - | - | |
| | 26.05-30.05.21 | Germany | t.b.a. | - | - | |
| | 28.05-30.05.21 | Portugal | t.b.a. | - | - | |
| | 03.06-06.06.21 | Spain | GANDÍA (Valencia) | - | - | |
| | 10.06-13.06.21 | Hungary | t.b.a. | - | - | |
| | 17.06-20.06.21 | Slovenia | Radlje ob Dravi - Vodni Park | | - | |
| | 24.06-27.06.21 | Switzerland | Brugg (same place as in 2019) | - | - | |
| | 01.07-04.07.21 | Italy | Strembo (Dolomiti) | - | - | |
| | 08.07-11.07.21 | Czech Republic | t.b.a. | - | - | |
| | 15.07-18.07.21 | Poland | Hotel Ostaniec Podlesice | - | - | |
| | 22.07-25.07.21 | Latvia | t.b.a. | - | - | |
| | 29.07-01.08.21 | Russia | t.b.a. | - | - | |
| | 05.08-08.08.21 | Finland | Vuokatti | | - | |
| | 12.08-15.08.21 | Sweden | Kosta | - | - | |
| | 19.08-22.08.21 | Ireland | Earl of Desmond Hotel, Ballyseedy, Tralee, Kerry | - | - | |
| | 26.08-30.08.21 | Great Britain | Uttoxeter (GWOCGB 40TH ANNIVERSARY TREFFEN) | | - | |
| | 02.09-05.09.21 | Luxembourg | Diekirch "Camping ob der Sauer" | - | - | |
| | 08.09-12.09.21 | Bulgaria | t.b.a. | - | - | |
| | 15.09-19.09.21 | Turkey | Grand Temizel Hotel-Ayvalik | - | - | |